Ciudad Real Airport : The Penny Finally Drops...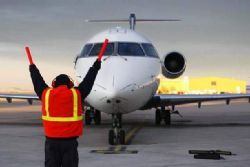 After eight failed attempts to sell Spain's Ciudad Real Airport, the penny seems to have finally dropped for the administrators of the bankrupt facility - their expectations that anyone is seriously interested in ownership of the airport are flawed.
Almost 18 Months ago the abandoned airport was first issued for sale for the princely sum of 'just' EU 120 Million (However, the new owner would also be obliged to assume responsibility for the EU 320 Million debt attached to the Airport) - a snip compared to the reported EU 1.1 Billion cost to first open the facility.
The decision to offer launch the Airport for a ninth time by sealed bids without reserve came after the final offering of EU 40 Million failed to attract any interest.
The deadline for interested parties to submit their bids is set for June 19 at 11am in Ciudad Real court and hopes to end the almost 2-year bankruptcy process.
What we know about Spain's original 'Ghost Airport' :
* The EU 1.1 Bln facility became a joke shortly after opening for the first time in 2008, where it was marketed as "Madrid-South", despite being located 200km from the capital itself - this might not have been too much of an inconvenience if it were not for the fact the much promised AVE high speed rail link to Madrid never materialized. Similarly, the opening of the Airport - which was intended to help relieve congestion at Madrid-Barajas Airport - coincided with news that Barajas would open a new 4th Terminal. Ciudad Real's intention of helping to relive pressure on Spain's busiest Airport was therefore no longer required.
* Local useage of the airport is questionable - Ciudad Real has just 75,000 residents, with the airport being built to accommodate 7 Million passengers per year - figures comparable to Alicante Airport.
* According to INE data, the number of Hotel Room Nights attributed by Foreigners visiting the area each month ranges from between just 1,300 to 5,000 - meaning that tourism is unlikely to help boost passenger numbers.
* Vueling became the last Commercial Airline to operate from Ciudad Real Airport - who ceased operations in October 2011.
* The Airport was hit with significant unexpected costs due to delays in construction after the land designated being an area of Special Protection for Birds.
* The abandoned runway was used as a race-track by UK TV's Top Gear team, which openly made fun of Spain's 'White Elephant' construction projects in w a which only Clarkson / May / Hammond could.
* Famed Spanish Film Director Pedro Almodovar has used the Airport as the setting for one of his films "Up in the air".
* The 5'000 mt runway was also used as the setting for a truck commercial, staring Jean Claude Van Damme, where he balanced in the splits position between 2 speeding Volvo trucks.
Recommended Reading :
* Spain's Ciudad Real Airport 6th Most Visited in World 2013
* Ciudad Real Airport back in Use