Spain expects more tourism from Middle-East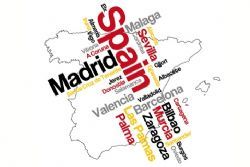 The number of people travelling to Spain from the Middle East is likely to jump as air connectivity improves and the government puts emphasis on improving the quality of tourism, according to Spanish tourism officials and a Middle-eastern Diplomat.
More than 70,000 people travelled to Spain from the UAE last year, according to Dr Hessa Abdullah Ahmad Al Otaiba, UAE ambassador to Spain, who went on to say how the figure is likely to increase in 2015 due to an increased number of connections.
"Emirates airline flies twice a day and Etihad has just started its operations. We are expecting more visitors this year," said Hessa, speaking to Gulf News in Madrid.
"Spanish weather, soccer and Arab legacy are attracting visitors to Spain. People are friendly by nature," she said.
Emirates has daily flights to Barcelona and Madrid whereas Etihad which started operations earlier this month flies four times a week to Madrid. Qatar Airways flies to Barcelona daily.
A top official from Madrid tourism department said the city has a rich Arab legacy and they want to welcome as many tourists as possible from the UAE.
"We have three main carriers from the Middle East flying to Madrid including Emirates, Etihad and Qatar. We have four and sometimes five daily flights from the Gulf region to Spain," Miguel Sanz Castedo, director of Marketing in Madrid tourism told Gulf News.
He said they are launching campaigns to promote main tourist attractions in Madrid for Middle East travellers.
"Football is very popular in the Middle East. There are lot of Real Madrid fans in Dubai, Qatar and other countries. We want people in the Middle East to come and enjoy soccer."
Government spending
More than 10 million tourists visited Madrid last year and there is no dearth of hotel rooms, he added.
"The government is planning to increase the expenditure in Madrid by 50% to increase the quality of tourism. We offer top quality shops of international brands. In Spain, the tax free scheme is more attractive for tourists while shopping."
"We are building two new five star-projects in the next two years in Madrid to accommodate tourists. Last year we had 65% average hotel capacity. We have a lot of room to grow."
On the other hand tourism officials from nearby Cordoba city said they are seeking more tourists from the Middle East.
"Cordoba is a historical city with deep connections with Islam. We want more people to visit the city and enjoy the experience," said Jose Fernandez Linares, general manager of Cordoba Tourism Board.
He said that they are promoting the city for both tourism and investment opportunities.
"We were in Dubai recently and the response had been good. We are expecting more tourists to visit the city. There are halal restaurants and historical sites."
Cordoba, which is about a two-hour journey by train from Madrid, has a number of tourist attractions including the great mosque, royal palace and well decorated houses.
Recommended Reading :
* Spain sees 33 Mln Foreign Tourists in Feb
* Spanish Airports to see 25 days of strike action