PM revises up Spanish GDP growth in 2015 to 2.9 pct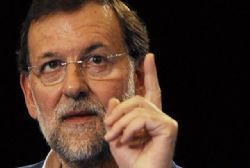 Spain's PM Mariano Rajoy announced a GDP growth of 2.9% for this year and 2016 at the breakfast organized by the Spanish news agency Europa Press.
Rajoy revised up Spain's economic growth for 2015 and 2016 to 2.9%, 0.9% more than the last forcast, highlighting that Spain would be the country with the highest economic growth among the bigger economies from the Eurozone.
"Who would have said that 2 years ago?" he asked. He also informed that new economic forecasts that need to be sent to Brussels would be updated on Thursday.
These predictions are more optimistic than those of the IMF, Brussels and the Bank of Spain that predicted a 2.5% growth, a 2.3% growth and a 2.8% growth respectively for 2015. In 2016, the IMF predicted a 2% GDP growth, the Bank of Spain 2.7% and Brussels 2.5%.
Regarding unemployment, Rajoy stated the country would create more than 500,000 new job opportunities in 2015 and a million between last year and 2015.
The big national goal, Rajoy insisted, was to reach the 20 million people employed mark in the following term in office. In the first quarter of the year, 17,454,800 people were registered as employed according to the most recent data of Spain's Statistical Office (INE). The country's general elections take place later this year, and Rajoy said he intended to be a candidate.
assured he would continue with reforms the government has been carrying out so far. He said they should be "ambitious" and "extremely effective when managing resources," and at the same time he recognized that the economic policies implemented were tough, but announced that he would continue cutting taxes if possible.
On the other hand, he highlighted that the country "needs a fair tax system and contributions to the social security system because we have nine million pensioners."
Recommended Reading :
* IMF ups 2015 growth forecast to 2.5%
* The year Spaniards paid most tax