Spain's Bankia Q1 net profit up 12.8 pct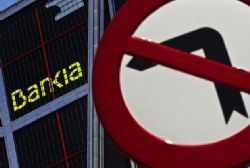 Spain's state-rescued lender Bankia posted a forecast-beating 12.8% rise in Q1 net profit on Monday, though the bank's margins disappointed investors and sent the shares down more than 2%.
Like peers Caixabank and Sabadell, which reported results last week, Bankia is seeing clear signs of a recovery, with revenues and net interest income stabilising while bad debt is beginning to fall.
Yet low interest rates and subdued credit demand from consumers and companies continue to weigh on performance, forcing the banks to focus on profitability rather than expansion.
Bankia's Q1 net profit of EU244 Mln beat forecasts, but net interest income was down 0.6% at EU693 Mln, missing the average estimate of EU701 Mln in a Reuters poll of analysts.
"Recurring income is down sharply on the quarter, as is the net interest income and the fees, which slows down the recovery seen in previous quarters," Renta4 analysts said in a note.
Shares in the bank were down 2.7% at 1.26 euros by 0745 GMT.
Bankia, once a symbol of Spain's financial crisis after receiving a EU22 Bln bailout, is seeking strong growth this year and last week approved payment of the first dividend in its short but troubled history.
It is targeting group profit of about EU1.2 Bln in 2015, against EU747 Mln last year, when the bank set aside EU312 Mln to cover compensation claims from investors who bought into its ill-fated 2011 flotation.
Bankia, which is still grappling with the fallout from the listing, aims to increase lending to small businesses by 10% this year, looking a return on equity (ROE) profitability ratio of at least 10%.
Its ROE ratio was 8.7% at the end of March, up from 8.6% 3 months earlier. Lending was slightly down in the quarter as the bank continued to reduce exposure to the real estate sector, though corporate and consumer lending increased.
Progress was made on bad debt, a key concern in the past. Its bad loan ratio dropped to 12.6% at the end of March from 12.9% at Dec. 31, while its core capital ratio under full Basel III criteria rose to 11.01% from 10.6% at the end of the previous quarter.
Recommended Reading :
* Spain's Bankia to publish results of Saturday without liability
* 10 Spanish Banks reported for illegal fees