Spain: From a Two-Party System to Political Alliances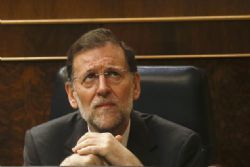 Less than a month for municipal and regional elections, Spain is going through a complicated period of negotiations of political pacts in light of the prospect that in most cases no party will win a majority of votes. According to predictions, the May 24 elections will show a division in voters' support in similar proportions for the Popular Party (PP), the Spanish Workers' Socialist Party (PSOE), Podemos and Ciudadanos.
The situation shown by polls is distant from the so-called Spanish two-party system as a result of the victory of the PP and the PSOE, which have been ruling alternatively since the 1980s.
The situation is being changed by two new organizations: Podemos, whose platform is similar to that of the traditional left wing, and Ciudadanos, a Catalonian right-wing organization that became national a few months ago.
The two parties, which have new discourses of great media impact have taken advantage of the weakness of the PP and the PSOE, which people have equally blamed for the current crisis and are affected by cases of corruption.
The complex post-election negotiation is evident in the case of Andalusia, where early elections were held on March 22 and no agreement has been reached so far for its president, Susana Diaz, from the PSOE, the party that won most votes but without an absolute majority, to be sworn in.
In that Spanish autonomous community, the PSOE won 47 parliamentary seats, compared to 33 by the PP, 15 by Podemos, nine by Ciudadanos and five by United Left, but for the president to be sworn in, 55 votes are necessary in the regional parliament.
Recommended Reading :
* Spain's PP seen losing Valencia seats in election
* Spain's opposition leader backs anti-abortion law by accident