EU Ponders Gibraltar - Spain airspace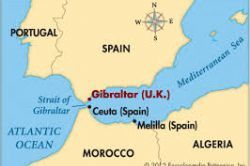 The European Commission is considering "all possible options" regarding a stalled proposal to bolster the rights of stranded air passengers, which could ultimately lead to the withdrawal of the package, officials say. The Commission proposed rules two years ago to make it easier for stranded passengers to claim compensation by limiting the extraordinary circumstances under which airlines can refuse compensation for delayed or canceled flights.
But talks among EU member states have progressed slowly, and disagreements remain over issues such as the thresholds for compensation in case of delays and missed connecting flights. In addition, the British-Spanish territorial dispute over Gibraltar has stalled the implementation of all EU aviation legislation since 2012, meaning any eventual agreement on the air passenger rights proposal would be put on hold until the issue is solved bilaterally. With British elections looming next week and Spanish ones later this year, EU diplomats say there is little chance of that happening soon.
"The Commission is considering all options in order to achieve the best possible outcome," said Jakub Adamowicz, spokesman for the European Commission.
"Both passengers and industry need certainty and that is what we hope to achieve with this revision of air passenger rights."
An EU official said withdrawing the proposal was one of the options, especially "in light of the current situation". The Commission will decide after the 28 EU transport ministers meet in June to take stock of progress. An EU diplomat also said the Commission was thinking of withdrawing the proposal. "Nobody wants to go for a compromise until that's solved," the person said, referring to Gibraltar.
Britain and Spain are at odds over the sovereignty of the isthmus that connects the British territory of Gibraltar to Spain. Spain wants Gibraltar airport, which sits on the disputed land, to be excluded from EU aviation law until the debate is resolved. Britain says that under the 2006 Cordoba agreement between London, Madrid and the Gibraltarian government, Spain agreed to stop seeking the exclusion of Gibraltar airport from EU aviation measures. The Commission has said it will come forward with a new strategy to bolster the competitiveness of its aviation sector later this year, meaning it would be able to tackle the issue of passenger rights again.
Recommended Reading :
* Gibraltar would seek to preserve EU ties if Britain voted to leave
* Spain lobbies for Gibraltar EU airport exclusion