Spain's consumer prices fall by 0.6 pct in April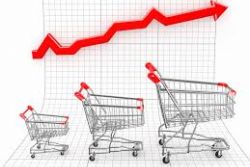 Spain's consumer prices fell by 0.6% in April when compared with the same month of a year earlier, according to data of the Consumer Price Index (CPI) published Thursday by the country's statistical office (INE).
The figure is 0.1% higher than the inflation rate registered in March, when prices fell by 0.7%. According to the INE, this variation is due to higher electricity prices.
Spanish prices have been falling for 10 consecutive months on a year-on-year basis. However, the government has assured citizens there is no structural deflation, adding that falling prices benefit families as their disposable income increases.
Meanwhile, prices increased by 1.0% in April when compared with March.
The INE will confirm the CPI data published on Thursday on May 13 when it will provide more information about the evolution of prices.
Recommended Reading :
* Spain's consumer confidence increases 14 points in March
* Spanish banks overseas push reflects doubts on recovery at home