Renewables bring 41% of Spain's power in April 2015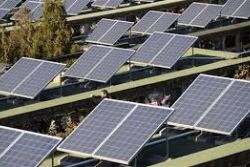 Spain's renewable power plants generated 41.3% of the country's electricity in April, data of grid operator Red Electrica de Espana (REE) showed on Thursday.
Wind power output slightly increased year-on-year to 3,948 GWh this month, representing 20.4% of total power output. Spain's hydroelectric plants accounted for 13.5%, while photovoltaic (PV) and concentrated solar power (CSP) parks provided 3.9% and 1.9%, respectively.
Gross power demand in mainland Spain inched up 0.3% year-on-year to 18,828 GWh in April, while in the first four months of 2015 it reached 83,661 GWh, up 1.9% on the year.
Spain's total installed capacity as at December 31 is estimated at 102.3 GW, 22.3% of which is wind farms.
Recommended Reading :
* Renewables bring 48% of Spain's power in Feb 2015
* EU instructs Spain to install more wind turbines