Spain's Podemos founder resigns amid rift over party strategy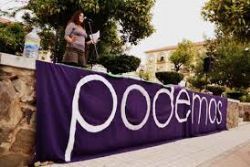 One of the founder members of Podemos, the one-year-old leftist party that has up-ended Spanish politics, resigned on Thursday in a surprise move that questions its strategy just as opinion polls show it may have peaked.
Podemos members have recently discussed, at times in public, whether the party should tone down proposals to capture more centrist voters and show it is a potential force for government ahead of a parliamentary election this year.
Conservative media and politicians often portray the group as dangerous radicals and have sought to highlight the ties of its leaders, all of whom are politics academics, with leftist governments such as in Venezuela.
Juan Carlos Monedero, a founder member of the group alongside leader Pablo Iglesias, had partly withdrawn from the public eye since January when he confirmed that he had done advisory work for left-wing governments in Latin America some years ago and had only recently made good tax payments on the work.
On Thursday he expressed disappointment at the party's direction.
"My party is the most decent there is but ... sometimes we appear to be like those that we want to substitute," he told Radiocable.com.
"We have to pay more attention to where we come from ... rather than where we want to go," he said. "It shouldn't seem that we are good clean boys that won't give the powerful any headaches, because that's not the case."
The group has gathered support by decrying the privileges of "the caste", Spain's political elite, and tapping into deep discontent over poverty and unemployment affecting almost one in four workers.
That grates with the public almost as deeply as the dozens of judicial investigations into alleged graft between businesses and politicians from the two parties that dominated Spanish politics until last year, the ruling People's Party and the Socialists (PSOE).
A MyWord survey for Cadena Ser radio however showed on Monday that Podemos had lost its leading position in voter intentions, with centre-right upstart Ciudadanos rising sharply.
The opinion poll put all four parties -- PP, PSOE, Ciudadanos and Podemos -- at between 18 and 22 percent, paving the way for a fragmented parliament.
Recommended Reading :
* Spain : From a 2 party system to political alliance
* Spain anti-austerity Podemos neck to neck with mainstream parties