Murcia's Corvera Airport Open May' 16, Ryanair Hub ?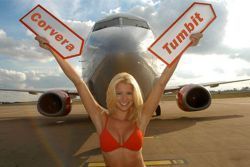 6 Months : The timescale proposed by both the Regional Government of Murcia and AENA between the opening of Corvera Airport and closure of San Javier Airport.
Whilst it is increasingly unlikely that the official agreement will be officially signed before local and regional elections of May 24, the Ministries of Public Works and Development have both signed a draft copy agreeing to this in principle.
However, it is looking increasingly possible that this will end up having to be renegotiated due to AENA having recently privatized 49% of the previously state-run organization, and with the shareholders demanding a say in investments and infrastructure.
The problem here being that the successful operation of Corvera Airport can not be guaranteed with any certainty until a line can be drawn under the issue of the closure of San Javier Airport.
The Government is suggesting that the issue should be divided into 2 distinct phases : Firstly, a period of 6 months for all contracts to be finalized to bring Corvera Airport into operation. Secondly, a period of 6 months between the opening of Corvera and the gradual transfer of operations from San Javier - in other words (and according to the regional government of Murcia) - Corvera Airport will be fully operational within 12 Months.
The draft agreement further addresses the compensation due to be paid to AENA for the investment made in the second runway and control tower over recent years, with the figure being provisionally placed at EU36 Mln.
However, one small matter that has seemingly gone unaddressed is the issue of who will operate the new facility, with the Minister of Public Works, Ana Pastor, remaining "convinced" that there will be sufficient interest, and declaring that 5 companies - including Ferrovial - have already expressed an interest.
Ryanair are also rumoured to be interested in using Corvera Airport as a hub, although this has yet to be either confirmed or denied by the budget airline and may be nothing more than leverage against future negotiations with neighboring Alicante-Elche Airport.
Recommended Reading :
* Corvera Airport open March 2015 sweepstake
* 2 Years since 'Corvera Airport Easter 2014' promise