Spain building licence awards points to property recovery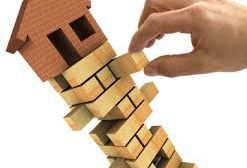 Spain saw the number of building licence applications for the construction of new houses increase by 48.2% in January and February of this year.
A total of 7,640 licences were awarded, continuing the positive trend seen at the end of 2014, when figures grew for the first time since the crash of the property market in 2007.
The Ministry of Development concludes that this is another indication of a recovery in the housing market.
However the number are barely comparable with the number of licences awarded for the same period in 2007, which stood at 124,335.
A report in Spanish daily El Mundo detailed how over 60% of the total number of building permit applications up to the end of February related to developments, amounting to 5,556 permits, which represents an increase of 64.6% compared to 2014.
Nearly all the remaining applications (2,079) were awarded for the construction of individual family homes -up 16.9% on the first two months of 2014.
A total of 3,670 licences were also requested for home reforms or restorations in the same period, resulting in an increase of 5.7% compared to 2014, while the number of licence applications for home extensions fell by 6.4%, to just 247 requests.
Recommended Reading :
* Spain sees value of resale properties up 30% in 2014
* Spain's top Golfing destinations driving property recovery