Spain new car sales rise 3.2 pct y/y in April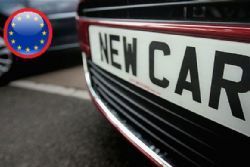 Spanish new car sales rose 3.2% year-on-year in April, manufacturers' association ANFAC said on Monday, marking 20 straight months of growth, though down sharply from a 40.5% rise a month earlier.
A Spanish government-backed subsidy scheme to boost new vehicle acquisitions has helped spur purchases over the last two years, though the latest phase ended at the beginning of April.
The government is expected to extend the scheme one more time through an injection of around EU200 Mln.
ANFAC said 82,715 vehicles were sold in April, while 349,857 cars were sold in the first four months of the year, up 23.9% from the same period a year earlier.
Recommended Reading :
* Spain new car sales up 40.5% in March
* Spain's vehicle production up 10.56% in Feb