Spain Bankia plans sale of real estate portfolio worth EU4.8 bln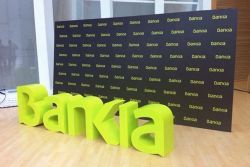 Spain's state-rescued lender Bankia has appointed Credit Suisse and KPMG to find institutional investors interested in its EU.8 Bln real estate portfolio, a spokesman for the bank said on Wednesday.
Talks are at a preliminary stage and a sale depends on market conditions and demand, the spokesman said, confirming a report in newspaper Expansion. He added that Bankia is prepared to sell the portfolio in parts or as a whole.
The Spanish real estate sector is showing signs of a slow return to growth after a property bubble burst in 2008, putting millions out of a work and forcing the government into a multibillion-euro bailout for its battered banks.
The Bankia portfolio, offered to about 50 investors, consists mostly of housing in Madrid, Barcelona and Valencia but also includes offices and commercial real estate across the country.
Recommended Reading :
* Spain's Bankia Q1 net profit up 12.8%
* Bank of Spain defends oversight of Bankia after IPO probe