Legal action taken against Spain's football suspension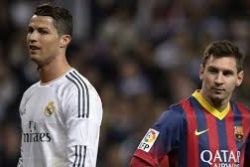 Spain's professional league (LFP) has begun legal action to block a decision by the football federation (RFEF) to indefinitely suspend competition from May 16 over a spat with the government on a new law on collective bargaining for TV rights.
The law was approved in cabinet last week with the backing of the LFP and aims to create a more level playing field for clubs in Spain's top two divisions by sharing out TV cash more equitably.
However, both the RFEF, and its influential president Angel Maria Villar, and the players' union (AFE) have come out against the new rules and the two organisations have backed halting competition right across Spanish football.
The final two matchdays in La Liga would both be affected as well as the King's Cup final between Barcelona and Athletic Bilbao at the end of the month unless agreement can be reached to avert the action.
In a statement late on Wednesday, the LFP said the RFEF's decision was legally "invalid" and that it had initiated "the appropriate action with the pertinent administrative and legal bodies" to overturn it.
Spanish law gave the LFP the right to organise professional competition and set the calendar for matches, the league argued, and called for those involved in voting for a suspension to be subjected to disciplinary measures.
"The LFP wishes to reiterate the importance of the royal decree approved by the Spanish government and emphasise its importance as an historic milestone for Spanish soccer," the LFP said.
A total of 17 regional federations would be affected by the suspension, including more than 600,000 players and 30,000 matches, the RFEF said.
The current system favours big teams such as Real Madrid, the world's wealthiest club by income, and rivals Barcelona.
Poorer teams, especially those with big outstanding tax bills to pay, have called for rights to be pooled to help them make ends meet.
Recommended Reading :
* Spain now most expensive for TV Football
* Spain to end 'Beckham's law' for foreign footballers