Spain to Raise Minimum Marriage Age From 14 to 16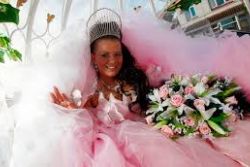 Spain is moving to raise the minimum age for marriage from 14 to 16 in a bid to boost the protection of children and bring the country in line with the rest of the EU.
The legislation was approved by the lower house of Parliament last month and was sent to the Senate on Friday for debate and likely approval over the coming months.
Spanish law permits marriage from the age of 14 with permission from a judge. Without such consent, they must wait until they are 18.
Spain has one of the lowest minimum ages for marriage in the EU, with most members setting it at 16.
Ana Sastre of Save the Children in Spain, which supports the change, said the proposal came after UN experts in 2010 urged Spain to address the matter.
The change will affect few. The National Statistics Institute says six 14-year-olds - two boys and four girls - got married in the first six months of 2014, while just one girl of 14 got married the previous year.
"Fundamentally it's a measure of protection to avert possible forced marriages, sexual exploitation or offenses against children, especially girls," Sastre said.
Ana Berrocal, civil law professor at Madrid's Complutense University, said the change was necessary given that Spain, acting on another U.N. recommendation and pressure from child protection groups, recently raised the minimum age for consent to sexual relations from 13 to 16.
Javier Fajardo, law professor at the University of Navarra, said Spain's low age limits were not unusual given that, in the past, most of Europe allowed marriage once a person could have children.
"Today a person of 14 is seen as still a child while a century ago they could have been the head of a family, responsible and working," he said.
Recommended Reading :
* FCO in Spain changes expat marriage and 'pareja de hecho' procedure
* Spain sees child poverty grow 28.5% since 2008