Military plane crashes outside Seville airport in Spain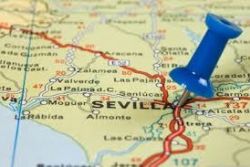 A military plane crashed into a field a mile (1.6 km) north of San Pablo airport in Seville, emergency services and the Spanish defense ministry said on Saturday.
Prime Minister Mariano Rajoy said between eight and 10 people were on board, newspaper El Pais reported. The prime minister's office could not confirm he had said this.
Media images showed fire-fighters spraying smoking wreckage in a plowed field. The plane was an Airbus A400M and was not being flown by the Spanish military, the defense ministry said.
The RAF in the UK is understood to have grounded all Airbus A400M Aircraft as a precautionary measure.
Recommended Reading :
* Three-Quarters of Spain's fighter jets unable to fly
* Eurofighter jet crashes in Spain killing pilot