Murcia to fine Sacyr over Corvera Airport highway refusal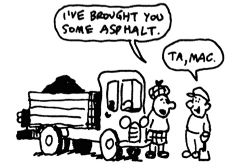 The regional government of Murcia has confirmed that they are holding Aeromur - the former concession holder of Corvera Airport headed by Sacyr - liable for the payment of work to be undertaken to resurface the road to the west of the airport, and which was part of their original obligation.
Sacyr is arguing that the surface of the 60km road which connects Alcantarilla to Caravaca is in good condition and does not need a new layer of asphalt, which has led the government to initiate legal proceedings to claim EU900,000 in compensation from them.
Further difficulties exist due to the fact that a toll system had been proposed to recover the initial investment, and that this would ultimately mean that the region government would be forced to contribute around EU12 Mln per year towards the upkeep.
Because of this it is difficult to determine the final cost of the work, since the amount of the fee varies annually depending on the number of vehicles traveling on the highway, though the opposition has maintained from the beginning that the final cost will be disproportionate, given that the contract is valid for 25 years.
The project was awarded to AUNORSA - part of the Sacyr group - 10 years ago.
The Ministry of Public Works has suggested that the cost of the works would amount to EU19.8 Mln.
The regional government has made several requests for Sacyr to complete the agreed works, but the company has repeatedly refused to do so. For this reason, the government deems this to be a breach of the original contract, and will levy a penalty of EU900,000.
This fine would be added to the nearly EU20 million cost of resurfacing the road.
Recommended Reading :
* Murcia's San Javier Airport NOT to close imminently
* Murcia's San Javier wins EU's best Airport award