Spain Mulls Response to Regional Terror Attacks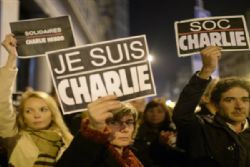 Spain's prime minister said his government plans to introduce a bill to better prepare the country for national security emergencies, becoming the latest European country to address violent attacks.
Spain needs to be able to cope with incidents such as terror-related killings or waves of undocumented immigrants, Prime Minister Mariano Rajoy said in an interview with the state television channel TVE shown on Saturday.
"We are living in very difficult times. There are very real threats," Rajoy said.
Rajoy didn't provide more details of the proposal but said the government will seek support for its blueprint from opposition parties.
The massacre in January of 12 staff at the French satirical magazine Charlie Hebdo, carried out by two self-proclaimed Islamists, has fueled debate on how Europe can best deal with the challenges posed by immigration.
France has responded with a proposed law to beef up government spying powers, and remains on high terror alert with armed soldiers and police patrolling landmarks and transportation hubs in Paris and beyond.
Alarm about the risk of extremism was further inflamed when 22 people, mostly European tourists and including two Spaniards, were killed in a gun attack on the Bardo National Museum in Tunisia in March. The militant group Islamic State that controls parts of Iraq and Syria claimed responsibility.
Recommended Reading :
* Spain proposes to set up international terrorism court
* Spain urges more cooperation to handle attacks, migration