Thousands March For Health Ahead of Spain's Local Election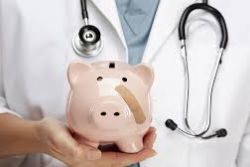 Demonstrators are demanding candidates back a pledge to stop the privatization of Spain's public healthcare system and reinvest in public services.
Thousands of people, alongside medical professionals, took the streets of Madrid Sunday to express support for public health care and demand politicians invest in the health care system.
The monthly march known as the White Tide, is the last before local elections to be held on May 24. The demonstrators marched under the slogan, "Quality Universal Public Health, It Depends on You."
The marches protesting the creeping privatization of Spain's health care system were first organized by medical professionals wearing their iconic lab coats, with Sunday's demonstration marking the 32nd time the protest has been held.
The quality of public healthcare in Spain has been in steady decline as a result of government cuts. All of Spain's political parties, with the exception of the right-wing People's Party and Citizens party, have signed on to a pledge to turn back privatization.
The municipal elections are being seen a measure of support ahead of general elections being held at the end of the year.
Recommended Reading :
* Spain Hospital waiting times double since 2008
* Spain faces nursing staff crisis