Spain arrests 2 ISIL recruiters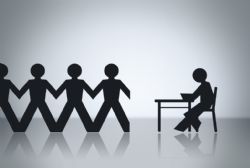 Spanish authorities arrested 2 Moroccan nationals on Tuesday in connection with recruiting for ISIL, and standing accused of using the internet to aid their recruitment effort.
The two Moroccans were arrested in Cornella del LIobregat, Barcelona, following an 8-month investigation, the Spanish Interior Ministry said in a statement, widely reported by Spanish media.
"The two were responsible for a cell based in Spain dedicated to the compilation and distribution of a terrorist nature which praised and advocated for the jihadist terrorist group Daesh. The two men "ensnared, radicalized and indoctrinated new militants to serve the organization in the future," the statement added.
The Moroccan pair are also accused of organising closed-door meetings in homes and at a mosque with "the sole goal of impregnating terrorist ideals in future militants," the Ministry said.
Spain conducted a string of operations in recent months against jihadist recruitment networks operating in the country.
Last month, Spanish police arrested 11 people with suspected links to the Islamic State.
Recommended Reading :
* Spain proposes to set up international terrorism court
* Islamists arrested in Spain eyed attacks on Synagogues