Catalan nationalist parties outraged over flag ban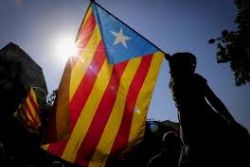 Catalan nationalist parties reacted angrily on Thursday after Spain's Central Electoral Commission issued a resolution ordering all esteladas – the flag symbolizing the region's bid for independence – removed from "public buildings and polling centers" in order to maintain neutrality during the campaign for local and regional elections on May 24.
The commission issued the instructions after an appeal was filed by Societat Civil Catalana (SCC), a political association that is against independence in the northeastern region. SCC had located 394 such flags in 323 municipalities. The majority of them were flying in public spaces such as avenues or traffic circles. The commission, however, has limited its order to removing them from buildings.
The regionally ruling CiU Catalan nationalist bloc opted to remain silent on the commission's instruction on Thursday, although sources reported that it would be filing an appeal.
Meanwhile, the Catalan Republican Left (ERC), which has an agreement with CiU to pursue independence for the region, called for Catalan councils to defy the order and fly the estelada on election day. The Catalan National Assembly (ANC), an organization that seeks independence for the region, and radical left-wing nationalist party CUP, also called on citizens to fly the flags from their balconies.
"We solemnly disobey," said CUP deputy David Fernández.
The estelada has been a regular sight in a number of Catalan municipalities since the independence drive ran into difficulties in 2012. But this marks the first time that the Electoral Commission has intervened on the issue.
Political parties in Catalonia have ramped up their efforts to gain independence from Spain in recent years, but are faced with the outright rejection of the idea by the governing Popular Party in Madrid. Efforts to hold an official referendum on independence late last year were thwarted by the central government, although an unofficial poll went ahead regardless.
Recommended Reading :
* Spain : From a 2 party system to Political alliances
* Catalan Nationalists plan to leave Spain by 2017