Spain renews car subsidy scheme ahead of election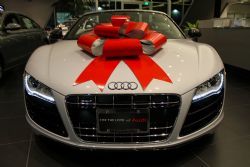 The Spanish government on Thursday said it was renewing its vehicle scrappage incentive scheme for the seventh time, offering consumers state subsidies for turning in old vehicles when buying a new car.
The subsidies have substantially boosted sales, and the new package will be worth EU225 Mln, Deputy PM Soraya Saenz de Santamaria said.
It comes just before regional and municipal elections on May 24, for which official campaigning kicked off last week.
Car sales grew only 3.2% in April after the previous scrappage scheme ended, compared with a 40.5% rise in sales in March.
Spain has posted 20 months of growth for passenger car registrations. The scheme, known as PIVE, aims to reduce the number of older cars on the road, improving road safety and supporting the car manufacturing industry in Spain.
Recommended Reading :
* 20 New rules to remember for Spanish road users
* Study into Spain's used car market