Ryanair to fly 4.2 Million pasengers to Valencia in 2015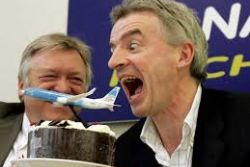 Ryanair is expecting to fly a total of 4,260,000 passengers to Valencia in 2015 : 2.6 million to Alicante; 1.6 million to Valencia and 60,000 to Castellón.
This was announced by Ryanair's Sales and Marketing Manager for Spain and Portugal, Jose Espartero, at a press conference where he announced that the Airline will operate 12 new routes from the 3 Airports in the region of Valencia.
Alicante-Elche is the fastest growing airport with an increase of almost 50% of weekly flight frequencies to a total of 33 destinations, with Hamburg, Newcastle, Copenhagen, Warsaw, Berlin, Rome, Santiago de Compostela and Cologne. all being added to the flight schedules this winter.
Valencia will see a total of 18 routes with a frequency of 74 weekly flights this winter to Berlin, Cologne and Trieste, with frequencies being increased to Santiago de Compostela and Ibiza this summer.
As far as Castellon airport is concerned, flights will begin in September with routes to Bristol and Stansted, with a predicted occupancy of 30%, which he said was in line with expectations for a new destination.
Recommended Reading :
* 6 Scots arrested on Ryanair flight to Spain
* Murcia's Corvera Airport : Open May 2016, Ryanair hub ?