Spanish Police arrest gang accused of trying to force immigrant to sell kidney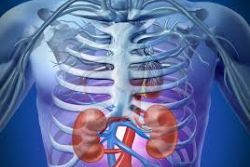 Spanish police have arrested five people accused of attempting to buy a kidney from an impoverished Moroccan immigrant for €6,000 (£4,361).
Officers in Spain made the arrests, after a combined operation with police forces in Belgium and Germany, but did not reveal where the arrests were made in a statement.
"The immigrant tried to pull out of the deal while he was undergoing clinical tests, so he was kidnapped, beaten and threatened with death to make him go ahead," the statement said, reports AFP.
The organ was for a gang boss whose son had liver disease.
Spain's National Transplant Organization alerted police to the activities of the gang, which was involved in burglary both in Spain and abroad.
On March 14, European leaders in Spain signed the first ever international treaty to fight organ trafficking.
The business generates more than $1.2 billion annually in illegal profits, according to the Council of Europe, which drew up the treaty.
Recommended Reading :
* Ryanair refuses to board Child in urgent need of transplant
* Spain consistently leads transplant records