Sabadell given EU clearance for TSB acquisition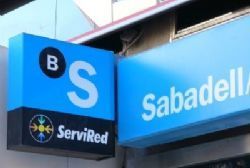 The European Commission gave Spanish lender Banco Sabadell clearance on Monday for its £1.7bn acquisition of TSB. The EC said the combined company's moderate market share and limited overlap did not raise any competition issues.
Sabadell announced in March that it had agreed a takeover of TBS, which was spun off from Lloyds in 2013 under the orders of the European Commission and floated last year.
Lloyds owned 50% of TSB before the deal was announced and had been planning to sell this off by the end of the year.
Recommended Reading :
* Spanish Banks overseas push reflects doubts on recovery at home
* TSB accepts Spain's Sabadell takeover