Rajoy: "Who's talking about bailouts, recession or unemployment?"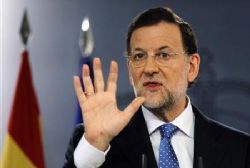 In difficult times, the Partido Popular is a sure bet. That was the gist of PM Mariano Rajoy's message at a rally on Tuesday in Pamplona, where he portrayed his conservative group as "the only guarantee for the future" of the Navarre region and Spain as a whole.
Rajoy, whose party stands to lose its grip on many local and regional governments in Sunday's elections, said on Tuesday that he fails to understand how Spaniards could consider voting for anyone but them, "now that Spain is recovering and must decide whether it takes a step forward or moves backward."
The man who will seek to renew his own position at general elections in the fall did not forget to underscore what has been his main point throughout the current campaign: that these days, nobody in or outside Spain mentions the fact that the country was once teetering on the brink of financial collapse.
"Who, these days, is still talking about the bailout, the recession or unemployment?" wondered Rajoy, despite the fact that the jobless rate in Spain is still hovering above 23%.
It was the previous PSOE administration's perceived mismanagement of the economic crisis that led to the PP's absolute majority at 2011 general elections. With the economy now posting slight growth and positive forecasts coming in from Europe and the IMF, Rajoy is hoping that voters will focus on the economy rather than on his party's many corruption scandals.
But 4 years after Rajoy's landslide victory, the emergence of new parties such as Podemos and Ciudadanos is threatening the two-party hegemony held by the PP and the PSOE, thanks to their promise of sweeping reforms and a tough stance on corruption.
The latest opinion poll by the Center for Sociological Studies (CIS) shows that unemployment is Spaniards' number-one concern, followed by corruption. And only 21.5% have the feeling that the economy is actually improving.
Addressing a city and region that have been ruled since the late 1990s by the conservative regionalist party Union of the Navarrese People (UPN), which has working ties with the PP, Rajoy stressed that his group is the only one with the ability to ensure the unity and prosperity of Spain, compared to those who would "break up Europe's oldest nation, the extremists and the radicals."
Recommended Reading :
* Spain approves spending package a week before elections
* Spain's PP in lead as Podemos loses ground