Catalan Independence Bid Hit by Podemos's Barcelona Win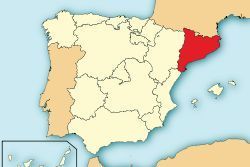 Catalan President Artur Mas's bid to win independence from the rest of Spain suffered a body blow on Sunday as voters in Barcelona ousted his party from city hall.
Voters in the regional capital picked Podemos-backed activist Ada Colau as their next mayor, as the pro-independence parties Mas is aiming to lead to an overall majority in Catalonia won 45% of the vote. The regional leader has pledged to call an early regional election this year to prove to officials in Madrid the support for leaving Spain.
"Mas is in deep trouble," said Ken Dubin, a political scientist who teaches at the Instituto de Empresa business school in Madrid and Lord Ashcroft International Business School in Cambridge, England.
Colau, 41, gained national prominence during the financial crisis leading a campaign to stop banks evicting families from their homes after they defaulted on their mortgages. She joined forces with anti-austerity party Podemos, an ally of Greece's governing party Syriza, for her assault on city hall.
Her coalition, Barcelona en Comu, won 25% of the vote and 11 representatives in the 41-seat city assembly, the Spanish Interior Ministry said on its website. CiU won 10 seats compared with 14 in 2011. Barcelona accounts for about a third of the Catalan economy and hosts all the major regional institutions.
"This result adds uncertainty to the planning process because it wasn't considered a possibility," said Jaume Lopez, a pro-independence political science professor at Pompeu Fabra University in Barcelona. "We will see whether that uncertainty becomes a problem."
Mas announced a regional election for Sept. 27 after the Spanish government blocked his attempts to hold a referendum last November. He agreed a deal with Esquerra Republicana to run in favor of a joint road map for independence.
"The question is whether Mas is going to run scared," Albert Rivera, leader of Catalonia's largest anti-independence party, Ciudadanos, said at a press conference on Monday. "Artur Mas will have to rethink whether Catalonia really wants independence, or a government that can tackle real issues and corruption. If this was some kind of plebiscite, clearly it was a bad result for Mas."
The campaign has already opened divisions among Mas's party and its supporters, who haven't traditionally pushed for a split from Spain. Unio, the smaller of two groups in his CiU movement, is due to vote on whether to back away from his separatist agenda next month.
CiU had 62 lawmakers in the regional assembly when Mas began agitating for independence in 2011. When he called early elections in 2012 to galvanize support for the cause, his group was cut to 50. Polls suggest his party could be reduced to 36 in September.
"If he calls early elections he may lose," Dubin said. "If he waits any longer, he may be slaughtered."
Recommended Reading :
* Catalan nationalist parties outraged over flag ban
* Catalan nationalists plan to leave Spain by 2017