Vodafone Spain to increase fibre optic speed to 300 Mbps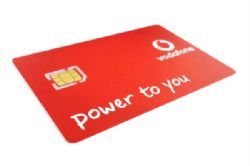 Vodafone Spain is set to follow Telefonica's lead and announce an increase in the top speed of its FTTH connection to 300 Mbps, as reported by Europa Press. The current top speed available under the new Vodafone One multi-play convergent offers unveiled last month is 200 Mbps download and 20 Mbps upload.
All customers that have signed up to a fibre plan will now see their broadband speed increased to 300 Mbps from 01 July and new subscribers can still take advantage of the operator's early taker offers.
For example, anyone subscribing to a quad-play deal with fibre-optic internet at speeds of up to 200 Mbps (300 Mbps from 01 July), plus unlimited mobile calls and 4 GB in data and pay-TV until the end of the year, will pay EUR 66.40 a month instead of EUR 83, as reported by sources.
Recommended Reading :
* Vodafone and Movistar Spain reported for unfair insurance clauses
* Spain doubles fibreoptic lines from 2014 to 2015