Spain 3rd most popular destination for expat Brits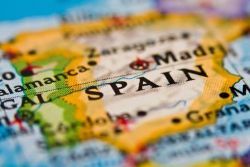 It has been estimated that in the last 5 years alone 851,000 Brits have moved abroad seeking a better life. There are now estimated to be over 5 million Brits living outside the UK. That's a lot of people; but where do they all go ?
Thanks to some new research we can now reveal the most popular destinations for British expats.
The survey by Lloyds Private Banking is based on figures held by the UK-based Office of National Statistics (ONS) and reveals the top destinations for Brits heading overseas to live.
In fifth position for expats leaving British shores is "land of the Hobbit" New Zealand. This country is known around the world after having been used extensively as a filming location for the Lord of the Rings trilogy, not to mention the more recent Hobbit movies. With a strong expat community, stunning landscapes and very little culture shock no wonder New Zealand is so popular with Brits seeking action and adventure.
In fourth position comes good old France. This is hardly surprising; over the years numerous "Francophiles" have fallen head-over-heels in love with the French way of life. The shorter working week, better weather and more reasonable property prices, not to mention the space and culture, makes France an understandably popular destination. For food-lovers alone, France has become a mecca, with entire websites focused purely around the culinary experiences on offer in France.
In third place comes Spain; long-loved by sun-seeking Brits and, the coastline aside, offering some of the most affordable property in all of Western Europe. Even better, since the amnesty against the many illegally-built Spanish properties, Brits are feeling ever more confident about buying property there. Best of all, Spain has been a popular expat destination for so long that in the more popular areas you'll find a population of English-speaking retirees, British pubs and social clubs all waiting to welcome you aboard.
Second place in the survey goes to the USA, with areas like Florida typically topping the charts for British expats. Here property is far cheaper than the UK, while near year-round outdoor weather can be expected as standard.
Winner, though, by a country mile, is Australia. The ex-British colony now attracts almost one in four British expats, drawing an astonishing 207,000 new residents from the UK over the last five years alone.
Recommended Reading :
* 1.5 Million plus Expats contribute to Spanish economy
* 5 Million Expats in Spain, Brits 2nd largest group