Rato accused of giving children €2.5m to avoid bond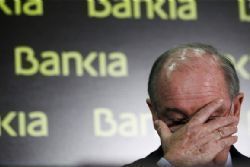 State prosecutors believe that former IMF chief and veteran Popular Party (PP) official Rodrigo Rato, who is under scrutiny for tax fraud and other crimes, gave his children company shares worth €2.5 million in order to avoid paying civil liability bonds in an ongoing criminal investigation.
Rato, who served as economy minister and deputy to Spanish Prime Minister Jos้ Marํa Aznar in the late 1990s and early 2000s, is involved in a number of probes, including the case looking at the abuse of company credit cards by executives at nationalized lender Bankia. He is also being investigated for his role in the bank's flotation, and for a tax amnesty he filed for in 2012, which prosecutors feel may have been used for money-laundering purposes.
In mid-April, Rato was briefly arrested and his home and office searched for incriminating evidence. The Tax Agency had been examining Rato's assets for several months, and found a number of companies established abroad that led to tax havens. In the last six months, Rato has traveled to Switzerland at least three times, the last time this April.
When Rato allegedly transferred the shares to his children in 2013, he had not yet been slapped with a €3 million bond to cover civil liabilities in the Bankia credit card case, an amount that he deposited in October 2014. The High Court also demanded Rato to pay a sixth of an €800 million bond over his role in the bank's IPO.
Prosecutors hold that after transferring the shares in four companies, Rato re-acquired them through another firm called Kradonara 2001, which tax authorities consider an opaque entity because its only partner is a company based in Gibraltar, Vivaway Limited.
The Attorney General's Office says that the real owner of Vivaway is Rodrigo Rato, although he uses a front company called "Findsbury Holdings Limited GB to conceal the real ownership."
The tax investigation concludes that "practically the entirety of Rodrigo Rato's known assets to date" are currently in possession of this Gibraltar firm, and thus "outside national jurisdiction."
Recommended Reading :
* Spain ranked 37th most corrupt country
* Rajoy : "There is no such thing as generalised corruption in Spain"