Basque Nationals Only Party in Spain Growing in Support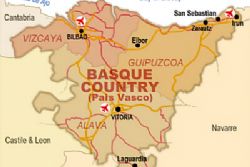 Spain's Basque National Party is the only traditional party in Spain which is growing and gaining more support in the country as its policy shows results, a Spanish member of the European Parliament from Basque National Party told Sputnik.
On Sunday, Spaniards voted in local and regional elections. The ruling PP ailed to garner a majority due to the rise of anti-austerity Podemos, founded last year, and pro-business Ciudadanos.
"The only of traditional parties who is growing now is the Basque National Party," Izaskun Bilbao Barandica told Sputnik.
"It wins these elections in Basque Country, because while 30 years have worked to reform the economic structures, to support real economy and industry, to promote innovation and internationalization for the Basque companies and cooperatives and to get economic resources to support social policies."
Bilbao Barandica stressed that thanks to the efforts of the party, the region now has a modern development model, unemployment is half less than across Spain and its per capita rent is the highest in Spain and the 125% of the average rent in the EU.
PP and its traditional opponent PSOE, won a combined 52% of the vote, down from 65% in the last election in 2011.
Basque National Party's lawmaker attributed the PP's loss of vote to the general situation in Spain.
"Middle class is almost gone and growing poverty. Public health or Education public services have suffered several budget cuts and there are a lot of corruption affairs in public administration. In the whole affairs are involved leaders of PP and Socialist party's people," Bilbano Brandica said, adding that PP and PSOE have "an old management style and old political concepts about democracy, authority or national identity."
The PP won the election, though failed to secure a majority in most of the areas following the vote, which was seen as a major test for Spain's two-party system ahead of the November general election.
Recommended Reading :
* Spain's ruling PP gets worst local election result in 20 years
* Spain's Basque contry proclaims right to self-determination