Spain RFEF President Villar to Be Questioned over FIFA Scandal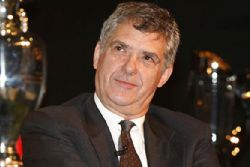 Ángel Maria Villar, president of the Royal Spanish Football Federation (RFEF) and a Vice-President of FIFA is due to be questioned by Swiss authorities over corruption allegations swarming FIFA.
Villar, a former Spanish League football hero and long serving FIFA veteran, faces questions for his involvement in the allocation of the World Cup tournaments to Russia in 2018 and Qatar 2022.
A close ally and lieutenant of exiting football Don, Sepp Blatter, Villar could yet be indicted given his close proximity to Blatter and the inner circle of FIFA executive decisions.
Villar is also at the centre of a probe into collusion regarding its joint Spain/Portugal World Cup 2018 and 2022 bids. It is alleged they abandoned their 2022 bid through negotiation with other bidding nations in order to gain more traction for their World Cup 2018 bid instead.
Collusion between bidding host nations is strictly forbidden, however the significance is hugely suspicious as more and more allegations of corruption, bribes for votes and money laundering begin to surface.
In keeping with true Spanish tradition, Spain was quick to deflect instead of answering tough questions and has chosen to accuse England of doing the same thing. The English FA has denied any wrong doing.
Villa's position also appears more and more untenable both within FIFA and the Spanish RFEF since it emerged Spain backed Blatter's re-election as FIFA president last week. A move which was met with fierce criticism and many in UEFA, Europe's football governing body, alleging Spain placed its own self interest above its ethical and moral responsibility to the fans across the globe and the game overall.
Javier Tebas, president of Spain's Professional Football league, has also voiced concerns over Villa's claims of innocence.
"He'll know what they were talking about, what was said in those meetings. A person that has been vice-president of FIFA for so many years, if he didn't know anything then maybe he's a bit thick for not having realised what was going on around him. And if maybe he knew quite a lot, then we'll find out soon enough"
However despite this, many individuals have raced to Ángel Villar's aid, most notably, Vicente del Bosque – The head coach of the Spanish national football team.
"I would put my hand in the fire for the president" he said referring to Villar, adding "he defends the game with passion wherever he goes and he always wants the best for the sport" – Del Bosque was appointed to the role of Head Coach by the RFEF, effectively making Villar his boss.
What is unknown is what, if any, involvement Ángel Maria Villar has had in the other processes and decision making within FIFA.
Gibraltar, the tiny British overseas territory on the southern tip of Spain, had faced massive opposition from Spain's RFEF when trying to gain entry into UEFA. It took a sports arbitration court to rule in Gibraltar's favour, although Spain levied huge conditions on UEFA preventing the two national teams from ever meeting in a tournament.
Gibraltar now finds itself in a similar position with its application to join FIFA rejected. A sports arbitration court will again decide if they can join FIFA. But, with Villar residing on the top tier of decision making, it will likely result in stiff opposition and/or further conditions being applied.
What is for sure, as more and more revelations surface about FIFA, international football associations and individuals charged with the responsibility of governing the beautiful game, football is no longer and never will be again, a means to bring people together with a joint passion for the game in the name of sport irrespective of nationality, race, religion or political persuasion.
A mantra often bellowed by FIFA and the Spanish RFEF.