Spain Air Traffic Strikes From Monday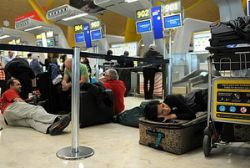 Spain's Ministry of Development, FOMENTO, has confirmed that strike action by Spanish Air Traffic Controllers ENAIRE will commence from Monday, 8th June 2015.
The Spanish government failed to reach an agreement with USCA, the main Spanish air traffic controllers union and thus strike action could not be avoided.
FOMENTO was keen to stress it had established the minimum services in 70% of the scheduled staff for those days.
However, the official press release and accompanying schedules appear to contradict their statement with most airports expected to have less than 50% of the usual staff in place.
Controllers are protesting in support of 61 controllers who were sanctioned for impromptu strike action in 2010 which resulted in the total closure of Spanish airspace. Military officials and controllers were drafted in to take control of the situation.
Strike action by controllers on this occasion will run over FOUR days, Monday 8th June, Wednesday 10th June, Friday 12th and Sunday 14th June all of which are between 10am-12pm and 6pm-8pm.
Although only partial strikes, the times are considered the busiest for flights in and out of Spanish airspace and will affect major destination airports around the country at the start of the summer tourist season.
In all, 30 airports will be affected including Madrid, Barcelona, Gran Canaria, Tenerife, Malaga and the Balearic Islands.
Whilst Alicante Airport is not specifically mentioned, the strike action may affect schedules into and out of the airport.
Travellers should check with their carriers before flying for the latest information on delays and cancellations.