UK tourists warned of behaviour clampdown in Magaluf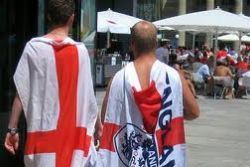 UK holidaymakers heading to the resort of Magaluf have been told to "respect the local culture" after new regulations designed to clamp down on antisocial behaviour.
Travel association ABTA issued the warning as Balearic authorities in Mallorca prepare to introduce a clampdown on nuisance behaviour and drinking.
The new regulations include a ban on alcohol consumption in the street between 10pm and 8am, while those who urinate in public or swim naked in the sea can expect to be fined.
Nikki White, ABTA head of destinations and sustainability, said: "ABTA and our members work closely with destinations to understand the impacts of any new regulations."
There will also be drastic restrictions on the pub crawls which led to a Northern Ireland teenage girl performing sex acts on two dozen men at a Magaluf bar.
Organisers will be banned from promoting drinking and sex games in their publicity, and will only be allowed to stage one bar crawl per day between 8pm and midnight for a maximum of 20 people.
Recommended Reading :
* British Bobbies to lend a hand Policing Spain
* Travel authorities call for responsible tourism in Spain after sex scandal