Spain : 1 Lawyer for every 189 Residents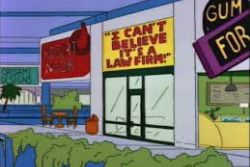 Spain comes top of the league tables run by the Council of Bars and Law Societies of Europe (CCBE) which show that there is one lawyer for every 189 citizens.
At the other end of the list of 28 European states comes Finland which has one lawyer for every 2,718 residents. This means that, proportionally, there are 14 times as many lawyers in Spain as in Finland. 
Poland comes half way down the list, in 13th place - with one lawyer for every 716 people (nearly four times as many as in Finland and a quarter of the number in Spain).
The number of Polish lawyers has gone up 80 per cent, by head of the population, over the last decade - up from one for every 1,253 citizens.
Recommened Reading :
* Spain "is not corrupt" : Rajoy
* 15,000 Spanish Lawyers could lose immunity