Rajoy confirms no early general election for Spain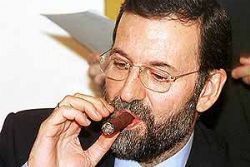 Spanish PM Mariano Rajoy said on Wednesday that he was not planning on bringing forward the date of the next general election, currently scheduled for November.
There had been speculation Rajoy would consider bringing the vote forward to either before the summer holidays or the early autumn after the poor showing of his ruling Partido Popular in the regional and local elections held in Spain at the end of May.
Although the PP were the most voted for political force, they only won 27% of the vote, well below the 44% they took in the November 2011 general election and nowhere near enough to repeat a ruling majority.
Speaking in Brussels ahead of a meeting between EU leaders and those of the Caribbean and Latin America, Rajoy said he was not considering changing the election date, although he is planning to make some changes in his government in an attempt to recapture public support.
"I will have to take some decisions and I will take them before the end of the month," said Rajoy, who refused to add whether or not the changes would be before next week's official visit to Milan.
"We have to make corrections," said the Spanish leader, who added he and his party needed to work to recover the confidence of Spanish voters.
Recommended Reading :
* Basque nationals only party in Spain growing in support
* Spain's ruling PP gets worst local election result in 20 years