King of Spain revokes title of Duchess of Palma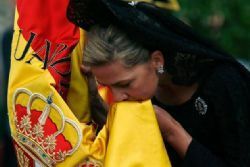 Spain's King Felipe revoked the title of Duchess of Palma de Mallorca from his sister Cristina, who is accused of involvement in a fraud scandal that has shaken the royal family.
Cristina, who received the title by royal decree in 1997, is facing trial over claims she was an accessory to tax charges linked to her husband Inaki Urdangarin's business activities. She was cleared of money-laundering charges by a Mallorca court last year and has denied all wrongdoing.
According to her lawyer Miquel Roca in a video published by El Mundo newspaper, Cristina volunteered to give up the title of Duchess because she didn't want to create more "controversy" and informed her brother of her decision in a letter.
A spokesman for the Spanish royal family said by phone Friday that the process was initiated and approved by the King. A spokeswoman for Roca's law firm in Barcelona declined to comment when contacted by phone Friday.
King Felipe VI pledged to lead a renewal of Spain's monarchy based on "integrity, honesty and transparency" after taking the crown from his father King Juan Carlos I in June last year, following a series of scandals that have tarnished the reputation of the Borbon family.
Recommended Reading :
* Spain's King Felipe lowers his salary
* Sister's trial looms over King Felipe's first Xmas address