Surge in Spain's left-wing Municipalities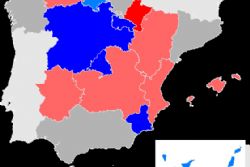 Left-wing coalitions formally took power in four out of five of Spain's biggest cities on Saturday, marking a political sea-change in municipal politics a month after voters registered their anger at austerity and corruption in local elections.
The centre-right ruling People's Party (PP) lost its mandate in more than a dozen provincial capitals across the country, signifying a major erosion of power for Prime Minister Mariano Rajoy ahead of a likely November parliamentary election.
The swearing-in ceremonies followed weeks of pact-making after new parties split the May 24 vote and led to inconclusive results in many of the more than 8,000 town halls that held elections. Talks to form governments in the 13 out of 17 regions that also held votes on May 24 are ongoing.
Big metropolitan areas Madrid, Barcelona, Valencia and Zaragoza now have left-wing administrations formed by community activists. Of the 10 biggest cities in Spain, the PP controls just two - the Andalusian cities of Malaga and Murcia.
The rise of new political groups has shattered the two-party system that has dominated Spanish politics for decades. It also brings a raft of new faces to local administrations, such as former labour law judge Manuela Carmena in Madrid, anti-eviction campaigner Ada Colau in Barcelona and human rights lawyer Pedro Santisteve in Zaragoza.
They have come to power on electoral promises ranging from the prevention of household evictions to the promotion of allotments for residents to grow their own vegetables.
Talks to form coalition governments in the highly devolved regions, responsible for spending in areas such as health and education, are likely to take longer to resolve and could result in more elections if parties fail to agree.
In response to the change of guard at the town hall level, Rajoy has told Treasury Minister Cristobel Montoro to keep track of municipal spending and make sure strict limits set during the height of the euro zone debt crisis are enforced, a government source said on Saturday.
Chronic over-spending by local governments spooked creditors during the euro zone crisis, and the country's 17 regions and thousands of town halls must meet Europe-agreed budget targets.
While municipal authorities have managed to control spending and reduce debt since the crisis, the regions are expected to miss budget goals once again in 2015.
The Bank of Spain on Monday called for fiscal discipline at all levels of government and urged regions to keep reducing debt.
Recommended Reading :
* Rajoy confirms no early general election for Spain
* Spain's ruling PP gets worst local election result in 20 years