Spain's rich up 40% since crisis : Study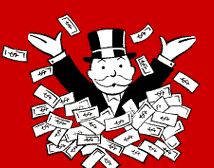 Estimtes of the number of people with large fortunes in Spain has grown by 40% since the crisis began in 2008. In 2014 alone, the amount of wealthy individuals rose 10% to reach 178,000 people, a new report finds.
A study by consulting firm Capgemini and RBC Wealth Management found that there had been a seven-percent global increase in the number of high net worth individuals (HNWI) in 2014. People who fall into this category have a million dollars or more in investable assets without counting the value of their primary residence or consumer goods.
The findings on Spain confirm earlier reports suggesting an increase in inequality. In Spain, household income dropped an average annual 3.5% between 2007 and 2011, similar to the figures for Ireland and Iceland, according to a recent study by the Organisation for Economic Co-operation and Development (OECD).
Meanwhile, nearly 13 million people are at risk of poverty or social exclusion in Spain – 27.3% of the population, or almost one in three individuals – according to research by the European Anti Poverty Network (EAPN), a coalition of NGOs, grassroots groups and European organizations.
Recomended Reading :
* 5 Spaniards drop out of Forbes list
* Amancio Ortega's fortune surpasses EU60 Bln