Ryanair's website to close for 10 hours this weekend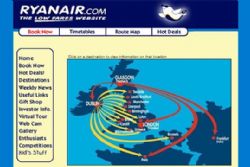 Passengers flying with Ryanair this weekend will need to make sure they check in well in advance after the low-cost carrier announced that its website would be down for 10 hours on Friday and Saturday.
Between 8pm on Friday June 19 and 6am on Saturday June 20 (Spanish time), customers will be unable to access the airline's web page, check in suitcases, reserve flights, or change tickets.
The company said on Wednesday that the downtime was required to update its system and that it was advising passengers scheduled to fly on those days to check in early.
The cut in services will only last 10 hours, but could prove a headache for those traveling with the airline, whose service is based on internet reservations. In fact, Ryanair customers have no alternative but to check in online, unless they wish to be charged €45 for each ticket the company prints out for them at the airport.
Ryanair said that it was "calling on all customers traveling on Friday and Saturday to check-in online for their flight on or before Thursday, June 18, well before the above web closure takes place.
The airline said it was "contacting all intending customers traveling on Friday June 19 and Saturday 20 by email and SMS text to advise them to check in online on or before Thursday to avoid this disruption."
As well as its website, the company's cellphone application will also be unavailable during this time.
Recommended Reading :
* Ryanair to fly 4.2 Million passengers to Valencia in 2015
* 6 Scots arrested on Ryanair flight to Spain