EU15,000 : Spain's average wage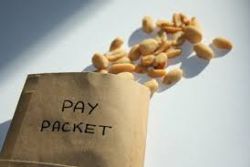 The most common salary received by workers in Spain is €15,500 a year. That's according to the latest data released by the National Statistics Institute (INE), which corresponds to 2013.
But while that figure remains the same as the year before, the average wage has decreased slightly to €22,697.86, a drop of 0.1%.
The median salary – the amount at the midpoint after dividing those with the highest salaries and those with the lowest salaries into equal groups – has also decreased to €19,026.66 a year, a decline of €11.
The new figures nevertheless confirm the wage drop that has taken place in Spain in the last few years.
Recommended Reading :
* Women in Spain earn 17% less than Men
* Spain increases minimum wage
The findings of the INE's annual salary structure survey also demonstrate the inequalities that exist in the Spanish labor market. The wages of workers with temporary contracts tend to be much lower than those with permanent jobs, with the former earning €15,433.14, 36% less than the latter.
The data also reveals large discrepancies in earnings among different sectors. While workers in the energy industry take home an average €52,827.86 – over double the national average – those in the hospitality sector, which has the lowest wages, earn an average of €13,851.08.
Compiled using information from the Tax Agency and Social Security system, the figures reflect annual gross earnings, taking into account monetary earnings and both social security contributions borne by workers – though retained by the employer – and income tax.