Apple Watch goes on sale in Spain for more than in France and Germany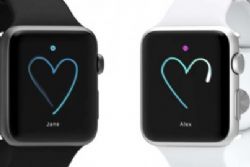 Apple launched its new Apple Watch in Spain on Friday, offering the product at higher prices than identical models for sale in France and Germany.
The two most expensive models to go on the Spanish market are priced at €18,400. One has an 18-karat rose gold case with a rose gray strap, and the other a yellow gold case with a red strap.
At the lower end of the scale, the cheapest smartwatch has a price tag of €419, according to the price list published by the Cupertino-based company on its website.
This figure is €20 higher than what pundits had been forecasting. While it was widely expected that the smartwatches would be sold for the same amount in Spain as in France and Germany, this has not turned out to be the case.
Most models are around €20 more expensive, with the differences reaching €400 at the upper end of the scale.
Unsurprisingly, the Apple Watch will also cost more in Spain than in the United States, as has always been the case with Apple products. Prices in Italy will be the same as in Spain.
Value-added tax (VAT) is different in all four countries: 19 percent in Germany, 20 percent in France, 21 percent in Spain and 22 percent in Italy. That would account for a €3 to €4 difference in the most inexpensive smartwatches, but not the extra €20 tacked on.
Such variations do not occur with other Apple products such as the iPhone 6, which sells for the same amount in Spain and Germany, is €10 to €20 more expensive in France, and up to €50 more in Italy.
The most basic Apple Watch, which costs €419 in Spain, goes for $349 in the US before sales tax, which depends on each state. In New York the final price would be $380, or €339 at the current exchange rate. That makes the Apple Watch 23% cheaper in the Big Apple than in Spain.
The price difference has something to do with each country's taxes and local costs, but above all it is part of Apple's sales strategy and demand analysis.
Three collections
The tech company is offering all three smartwatch collections in Spain. The most affordable one is Apple Watch Sport, which comes with an aluminum case; the mid-range collection is Apple Watch, which has a stainless steel case, and the high-range Apple Watch Edition offers two models featuring 18-karat gold cases. Each collection also offers the choice between a smaller 38mm case and a larger 42mm case.
The Apple Watch also went on sale in Italy, Mexico, Singapore, South Korea, Switzerland and Taiwan on Friday.
Recommended Reading :
* Caixabank unveils Spain's first Apple watch banking App
* Apple Spain starts accepting Android trade-in's