Russian Mafia Operated Out Of Spain For Over A Decade: Prosecutors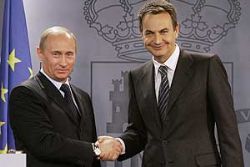 One of Russia's largest criminal groups, Tambov, operated out of Spain since 1996, even though most of its criminal activities were carried out in Russia. Spanish prosecutors Juan Carrau and Jose Grinda revealed who helped the mafia in a 488-page complaint filed with the Central Court.
A copy of the complaint was obtained by Bloomberg News.
Russia rubbishes Spanish allegations
Prosecutors said that some of the Russian President Vladimir Putin's closest aides helped the crime group in almost every possible way. The lengthy report was based on over a decade of investigations. It exposes links between the criminal group Tambov and top policymakers and law-enforcement officials in Moscow. Prosecutors have made a formal request to charge 27 people with fraud, money-laundering, and other crimes.
Unfortunately, Spain does not try people in absentia. Vladislav Reznik, a member of Putin's United Russia party and deputy chief of the finance committee in the lower house of the Kremlin, is the only Russian official facing possible charges. Prosecutors said Tambov leader Gennady Petrov got his men appointed to key posts in Moscow in exchange for assets in Spain.
President Vladimir Putin himself is mentioned three times by name in the complaint. However, Putin's spokesman Dmitry Peskov has rejected Spanish allegations, saying, "It's beyond the realm of reason." Spanish police arrested Gennady Petrov in 2008. He was later allowed to travel to Russia, but he never returned.
Gazprom chairman actively helped Petrov
Russian security agencies control criminal organizations to do things the government "cannot acceptably do." While operating out of Spain, Petrov carried out activities like murder, extortion and fraud, drug smuggling, and arms trafficking in Russia. Putin allies who helped Petrov include Viktor Zubkov, chairman of Russian gas giant Gazprom and former prime minister. Zubkov's son-in-law and ex-Defense Minister Anatoly Serdyukov also did business with Petrov.
Zubkov worked for Vladimir Putin in the St. Petersburg in the 1990s. Other Putin aides include Alexander Bastrykin, the chief of the powerful Investigation Committee. Putin and Bastrykin both graduated in law from Leningrad State University in 1975. Deputy Prime Minister Dmitry Kozak is "directly related" to Petrov's criminal organization. Putin and Kozak worked together in the City Hall.
Nikolai Aulov, another law-enforcement official in Russia, is "one of the most important persons for Petrov" in Moscow. The 488-page document says that politicians and law-enforcement officials in Russia offered Petrov help in various forms, including advise on his personal safety, threats posed by other gangs, planned activities against organized crime, and inside information about business dealings.
Recommended Reading :
* Spain freezes hundreds of Russian acounts
* EU has lost EU2 Bln in Russia sanctions : Spain FM