Spain brushes off Greek concerns as it hikes growth forecast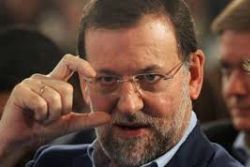 Spain's PM Mariano Rajoy on Thursday brushed off any concern of a spillover of the Greek crisis to his country as he revised up economic growth forecasts for the second time this year hours after borrowing costs picked up at a debt auction.
Rajoy said the Spanish economy would expand by 3.3% in 2015 and 3% in 2016 from a previous 2.9% earlier forecast for both years.
He also said tax cuts due to enter into force early next year would be brought forward with immediate effect in a bid to return EU1.5 bln to cash-strapped Spaniards ahead of a year-end election.
Although a source close to the government said the new forecast would have been 0.2% higher if it had not been for the developments in Greece, Rajoy is also expected to soon reinstate civil service pay and perks that were cut in 2012.
<>With the number of jobless falling for the fifth straight month in June and the government's tax intake improving by more than 7% to the end of May, Rajoy is hoping to use the new leeway for spending to make sure the economic recovery reaches ordinary Spaniards.
Spain's economy has returned to growth after a long downturn, but high public and private debt and the rising popularity of a political party in the mould of Greece's Syriza has made some investors more wary about Spanish bonds.
<>Earlier on Thursday, Spain's 10-year benchmark bond hit its highest auction rate since September, as wariness about Greece's economic crisis reached other southern European nations.
The marginal 10-year yield at the sale, which raised funding over four maturities, was 2.279%.
While this was the highest level for the benchmark paper in 10 months, it was however lower than the 2.379% paid in June for another 10-year bond with a different coupon and way below the 7.5%-plus they reached during the peak of the euro zone debt crisis.
<>On Tuesday, Italy's 10-year borrowing costs also rose to their highest level at auction since October.
Markets anticipate that a Greek exit from the euro zone - the likelihood of which has risen this week as Athens defaulted on an IMF loan and called a referendum on conditions for a bailout - could raise the risk premiums on debt issued by other peripheral euro zone countries.
Rajoy, speaking at an event in Madrid, called on Greeks to act responsibly and respect the rules and regulations of the euro zone which, he said, was not at threat.
"Whatever happens in Greece, the euro will continue and Spain will be an important part of that project," he said.
Recommended Reading :
* Spain to hike econmic growth forecast next week
* Spain sees GDP reaching pre-crisis level by end 2016