Spain's anti-austerity Podemos tied with mainstream parties : Poll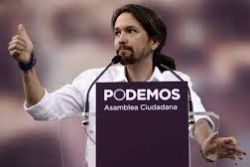 Spain's anti-austerity Podemos is virtually tied with the country's two mainstream parties less than 6 months to a parliamentary election with no sign of a front-runner emerging, a poll showed on Sunday.
For the 2nd month in a row, the ruling Partido Popular narrowly led the survey carried out by Metroscopia for El Pais newspaper, garnering 23% support.
The opposition PSOE and Podemos came close 2nd and 3rd in the poll with 22.5% and 21.5% respectively. Other newcomer, Ciudadanos, came 4th with 15%.
This means that at least three parties would be needed to form a parliamentary majority and back a stable government in a country without any tradition of coalition politics.
An alliance between the socialists, Podemos and other leftists Izquierda Unida would total around 48% of the vote but Spaniards would prefer a government led by the PSOE or the Partido Popular and backed by centrist Ciudadanos, the poll also showed.
In a test of the national mood ahead of elections expected in November or December, PM Mariano Rajoy's PP suffered heavy losses in local elections in May which saw the socialists regaining some momentum while Podemos and Ciudadanos made considerable headway.
Recommended Reading :
* Basque Nationals only party in Spain growing in support
* Spain's ruling PP gets worst local election result in 20 years