Spain's Santander seeks to sell package of unpaid mortgages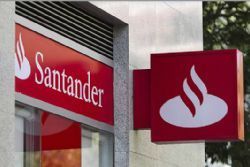 Spain's biggest bank Santander has hired consultants PricewaterhouseCoopers to help it sell a package of soured home loans worth just under EU800 Mln, a source with knowledge of the deal said.
Sales of problem debts by Spanish lenders are picking up as the economy recovers from a deep recession, and state-controlled Bankia is also close to shedding a big portfolio of troubled credits to U.S. and British funds.
Santander's planned deal, first reported by Expansion newspaper on Tuesday, is still in the early stages, the source said. The portfolio up for grabs contains around 2,600 unpaid mortgages and the sale should be completed in the coming months, the source added.
Santander declined to comment.
Non-performing loans, or debts that have not been paid for 90 days, soared during 6 years of economic downturn and led to several banks needing state bailouts in 2012.
Spanish lenders have slowly been trying to shed these portfolios over the last couple of years, though not all deals came to fruition as investors in distressed debt sought price discounts which many banks found too steep.
Portfolios of bad loans are not usually sold at face value. Banks are in a better position to take losses on these types of transactions now, however, as they have either taken charges against them already or are making higher profits as an economic turnaround takes hold.
Recommended Reading :
* Santander's Q1 profit jumps 32%
* Spanish mortgage lending expected to boost house prices in 2015