Spain sends aircraft to combat forest fires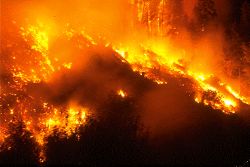 The government has sent 16 water planes and helicopters to help fight five forest fires in different parts of Spain as summer temperatures soar.
The Environment Ministry said on Thursday it sent five planes to combat a blaze near the southern towns of Gualchos and Lujar. Some 500 people have been evacuated from the towns since the fire started on Wednesday.
Planes and helicopters were also sent to help extinguish a fire that has destroyed 2 000 ha of land around the south-central town of Quesada since Sunday.
Firefighters were also trying to extinguish fires that have razed around 1 000 ha in the provinces of southwestern Huelva, northern Huesca and eastern Castellon.
Spain has been in a heat wave for nearly two weeks, with temperatures reaching 40°C.
Recommended Reading :
* Heatwave sparks major wildfires in Spain
* Spain sees number of forest fires jump 40.5% in 2013