Spain's Rajoy points to Greek turmoil in appeal to voters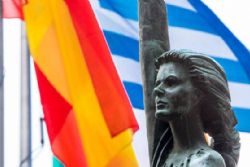 Spain faces a stark choice in looming elections between growth and economic turmoil similar to Greece's, PM Mariano Rajoy said on Saturday, taking a swipe at leftist opponents as his party gears up for one of its toughest campaigns in decades.
Rajoy, whose centre-right Partido Popular took a drubbing in recent local polls, pointed to Greece's race to avert bankruptcy and a euro zone exit as a warning for Spain, where anti-austerity movements have gained traction.
"One doesn't have to go very far to see how easy it can be to ruin a recovery," Rajoy told a party conference, painting a bleak picture of the "strangled" economy in Greece. "Is that the change offered by the new far left parties in Spain?"
The PP, which imposed unpopular spending cuts in recent years, has sought to present itself as the party safeguarding Spain's economic recovery ahead of a general election due by year-end, most likely in November.
The government recently hiked growth forecasts for 2015 to 3.3%, making it one of the fastest growing economies in the euro zone after it exited a deep recession 2 years ago.
But the PP's re-election strategy came under scrutiny after a battering in regional and local elections in May, when voters turned to new parties such as Podemos ('We Can'), a leftist party in the mould of Greece's ruling Syriza, and market-friendly Ciudadanos ('Citizens').
Stubbornly high unemployment - still the worst in Europe after Greece - and rising inequalities have left many in Spain doubting the economic turnaround, and a string of corruption scandals have also hurt the PP.
Rajoy has shown few signs of altering his re-election plan, however, and has made only minor changes to his team in recent weeks. The PP party has also unveiled a new logo, promised better communication and said it will involve grassroots campaigners more in its decisions.
But Rajoy has insisted economic policies will not change, and on Saturday drew parallels with Greece as he tries to rally support.
"What's happening (in Greece) today? They're back in recession," Rajoy said. "Hopefully this weekend the Greek government will finally reach an agreement with European institutions... (but) it won't repair the damage that was caused."
Recommended Reading :
* Spain's Rajoy says mood music from Greece now more positive
* Greek exit could send message Euro is reversible : Rajoy