Spanish gov't revises up its economic predictions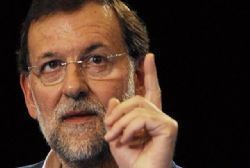 Spain's government has revised up its economic predictions for 2015 and 2016, predicting a 3.3% and a 3% growth respectively.
The government made this announcement on Friday at the press conference held after the cabinet meeting, when they said that a better performance of the domestic demand and the external sector allowed revising up the country's economic predictions.
The government predicted a 3.3% GDP expansion for 2015 and a 3% growth for 2016 as opposed to the 2.9% previously predicted for both years.
This economic growth would have an impact on job creation and the government predicted that unemployment rate would fall to 22% in 2015 as opposed to the 22.1% previously predicted, while falling to 19.7% in 2016 as opposed to 19.8%.
The government also expects 602,000 new jobs created this year, a 3.4% more than a year earlier and Spain's Economy Minister Luis de Guindos pointed out that unemployment data for Q2 of the year, to be released later in July, would be "especially good."
Spain was seriously hit by the financial crisis and its economy grew on a year-on-year basis for the first time in 6 years in 2014. The 3.3% forecast for 2015 is the highest since 2007.
Recommended Reading :
* Spain brushes off Greek concerns as it hikes growth forecast
* Spain sees GDP reachn pre-crisis level by end-2016