Rajoy : "There will be no Catalan independence"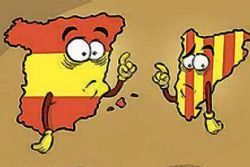 Spain's prime minister is asking Catalan leader Artur Mas for "prudence, sound judgment, moderation and common sense" in connection with regional elections scheduled for September 27.
"There will be no Catalan independence, and Catalonia is not going to leave Spain or Europe, even though this is what's being offered to citizens there right now," said Mariano Rajoy, of the center-right Partido Popular.
Earlier this week, Mas and his nationalist Democratic Convergence of Catalonia party (CDC) reached a deal with the Catalan Republican Left (ERC) to run jointly in the September election as a pro-secession coalition. If they win, Mas is promising to declare unilateral independence six to eight months later.
Speaking on Thursday at the close of a bilateral summit between Spain and Poland, Rajoy asserted that the state would "uphold the law" if anybody attempts to violate it. "Have no doubt about it."
Justice Minister Rafael Catalá, who was also present at the international gathering, said that so far his department is not contemplating any legal action against Catalonia's early elections, which are being viewed by nationalists there as a covert plebiscite on independence.
An informal referendum on self-rule held on November 9 attracted the attention of Spanish prosecutors, who filed charges against Mas and several aides for organizing it.
Rajoy underscored that the only thing being decided on September 27 was who would become the next regional premier of Catalonia.
The Spanish P< used Greece as a parallel, and criticized political leaders who "promise or offer things that will later come to nothing." He accused Mas of "irresponsibility" for insisting on the notion of plebiscitary elections "when in the end he will be forced to backtrack on everything."
Recommended Reading :
* Catalan Independence bid hit by Podemos Barcelona win
* Catalan Nationalists plan to leave Spain by 2017